The September market in Rasdorf is all about live cooking demonstrations and tastings. As early as 5.30 in the morning, plum jam is cooked in the wood-fired cauldron in Zemrim, which can be bought fresh in bottles around 4:00 p.m.
From 16:30 the ham of the Rhön biosphere will be presented in the new ham bar and offered for tasting. Participants in the round of presentations are:
– Thomas König, Project Manager Rhön GmbH, Bad Brueckenau
– Sophie Walch, Rhön Biosphere Reserve, Zella
– dr Silvia Kleinhenz, Rhöner Ham Queen 2021, Unterleichtersbach
– Christoph Budenz, Rhöner Ham King 2019, Rasdorf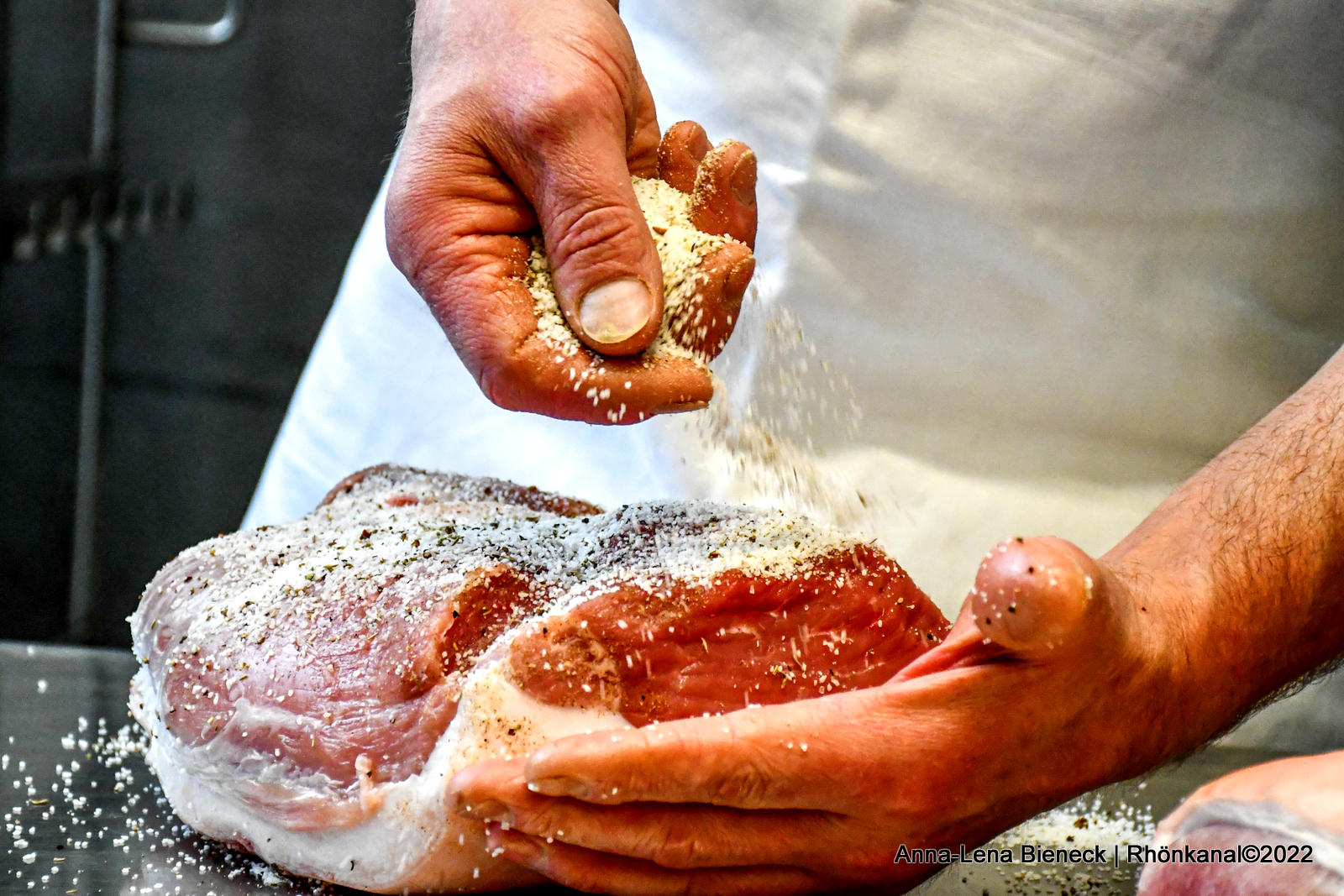 In a live cooking and preparation show with Thomas König (Slow Food Chef Alliance Member Chef Germany from Bad Brückenau). started at 17:00 with the preparation of "Rhöner lamb neck with flower flower risotto" and was prepared for about 30 portions.
The dish is prepared according to a recipe by star chef Patrick Spies and comes from the Rhön sheep gourmet cookbook. Completion and delivery of the meal is scheduled for 18:00.
The meal can be pre-ordered at 0151-11 22 32 43 or 06651-960 110 no later than September 5, 2022.
At the same time, Rhön organic oils will be presented with the live preparation of goat cheese, linseed oil and rocket salad. In addition, there is
Bratwurst of the Month: Lamb Bratwurst from Organic Sheep Farm with Heart.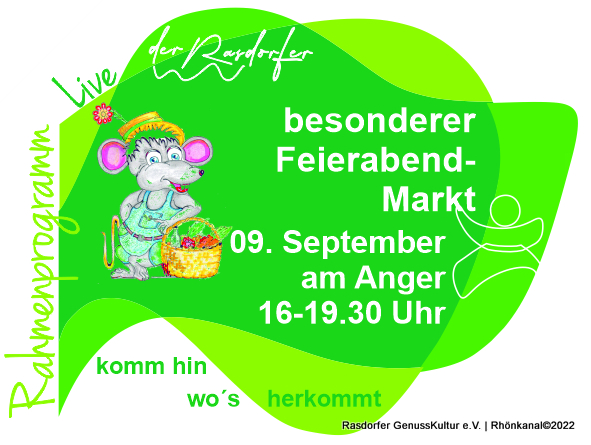 Special after-work market on September 9, 2022:
Honey: Josef Zechmeister – Rasdorf
Aronia juice: Frankenaronia – Münnerstadt
Beer: Hunfelt-Bräu – Burghaun
Eggs, chicken, water buffalo: Zintlhof – Leibolz
Mediterranean specialties: Pamir&Saadat – Friedewald
Wine, gin: Schneider – Rasdorf
Organic linseed oils: Ringelhans – Vacha
Lamb specialties: sheep farm with heart – Elmar Spies
Bratwurst of the month: Landmetzgerei Budenz – Rasdorf
Cheese, apple juice, ice cream, sausage: Richter Village Store – Kirchhasel
Wreaths, flower arrangements ..: Natur-Atelier Nine Pabst – Grüsselbach
Goat cheese: J. Brauer – Schenklengsfeld
Plum jam: Rasdorfer GenussKultur eV
Natural fur: Barbara Muth – Dorndorf
Cooking Show: Thomas König – Slow Food Chef Alliance Cook Germany
Ham of the Rhön Biosphere: Rasdorfer GenussKultur eV